Who-is-who
Other authors

Contributors
Emilio González Ferrín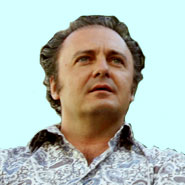 Born : 1965 in Ciudad Real (Spain)
Professión : Historian
Lives in: Sevilla (Spain)
Emilio González Ferrín is professor of Arabic and the History of Islam at the University of Sevilla. He specialises in medieval arabic Spain, al-Andalus, and has published books like Historia general de al-Andalus as well as an essay La palabra descendida: un acercamiento al Corán, which received the premio Jovellanos in 2002. A German translation appeared in Berlin in 2005. He also gave lectures in Cairo, Amman and Damask.
Ferrín doubts the conventional history of medieval Spain and maintains that it had not been conquered by the Arabs in 711. In this he is following the broad outlines set by Ignacio Olagüe and Américo Castro and comes near to what late eminant German scholar Günter Lüling taught contradicting mainstream academic views. Like Lüling he does not doubt conventional chronology yet he teaches that the Coran as well as the first Arabic grammar were much later written or standardised. The Coran he calls "the most important apocryphic Gospel of the Middle East".
Contributions on this website:
La tercera España: el alma morisca
To access all papers published by Ferrín on newchronology, please go to the Library and select Ferrín in the 'authors' column.
Other publications of Emilio González Ferrín:
2009: Historia General de al-Andalus. Almuzara. 2009.

2004: Las Rutas del Islam en Andalucía. Sevilla. Fundación José Manuel Lara.
2002: La Palabra Descendida: un Acercamiento al Corán. Oviedo. Nobel.
1998: El ajedrez en la Córdoba omeya. Grupo Joly.
See also the interview by Alejandro Luque in 2009: en la Revista Mediterráneo Sur